Regula Document Reader SDK includes document templates database which makes it possible to identify, recognize, obtain data and verify security documents. We are constantly updating this database by adding new and improving existing document templates.
If your workstation with Regula document reader connected to it has active Internet connection, you can install database updates automatically when they are available. Just make sure you have enabled Check for updates option in Document Reader application settings: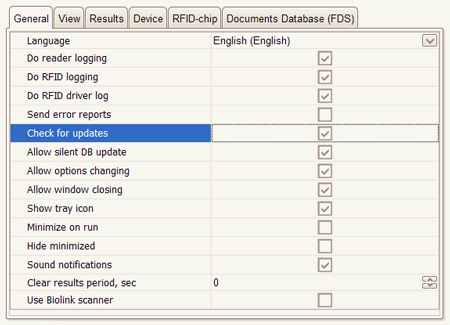 You can also enable auto-update without user notification by checking Allow silent DB update option. Please be aware that template database has large size (>300 MB) and requires time to download and install.
If you PC has no active Internet connection you can update template database manually by following next steps:
Download the latest database file from Regula server:
http://downloads.regulaforensics.com/work/SDK/database/!Updates/WorldDocs/
Place the file to the database update folder of Document Reader SDK. By default, this folder is "C:\Users\<USER>\AppData\Local\Regula\Document Reader SDK\Updates\data". Rename the file to data.dat.
Next time you run document reader application you will be using the latest database.