Regula Document Reader SDK provides two modes of RFID chip detection in the scope of the reader antenna – automatic and manual.
The first mode activates by default. It uses constant RFID chip tracking for early notification of an electronic document readiness for reading. When it is critical to save energy (e.g. a PC with document reader is battery powered), the manual mode can be turned on. In this mode constant tracking is deactivated, and RFID detection is performed only after a document is found in the reading zone by optical sensor (or in video detection mode).
The manual detection mode can be enabled by SDK function RFIDManualDetection using COM or in Document Reader application settings: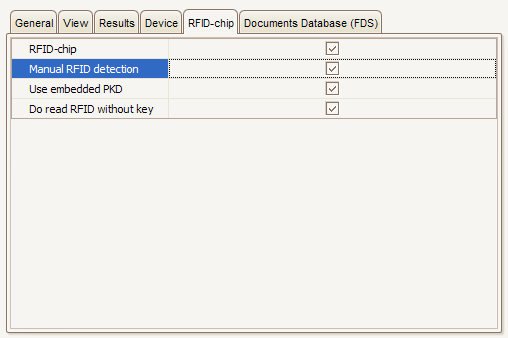 Warning! Due to Windows operating system security restrictions, manual RFID detection mode will work only when document reading application (custom user application or Document Reader) runs with administrative privileges. An alternative solution is to disable User Access Control service if it is allowed by your corporate security rules. Otherwise only automatic RFID detection will work.